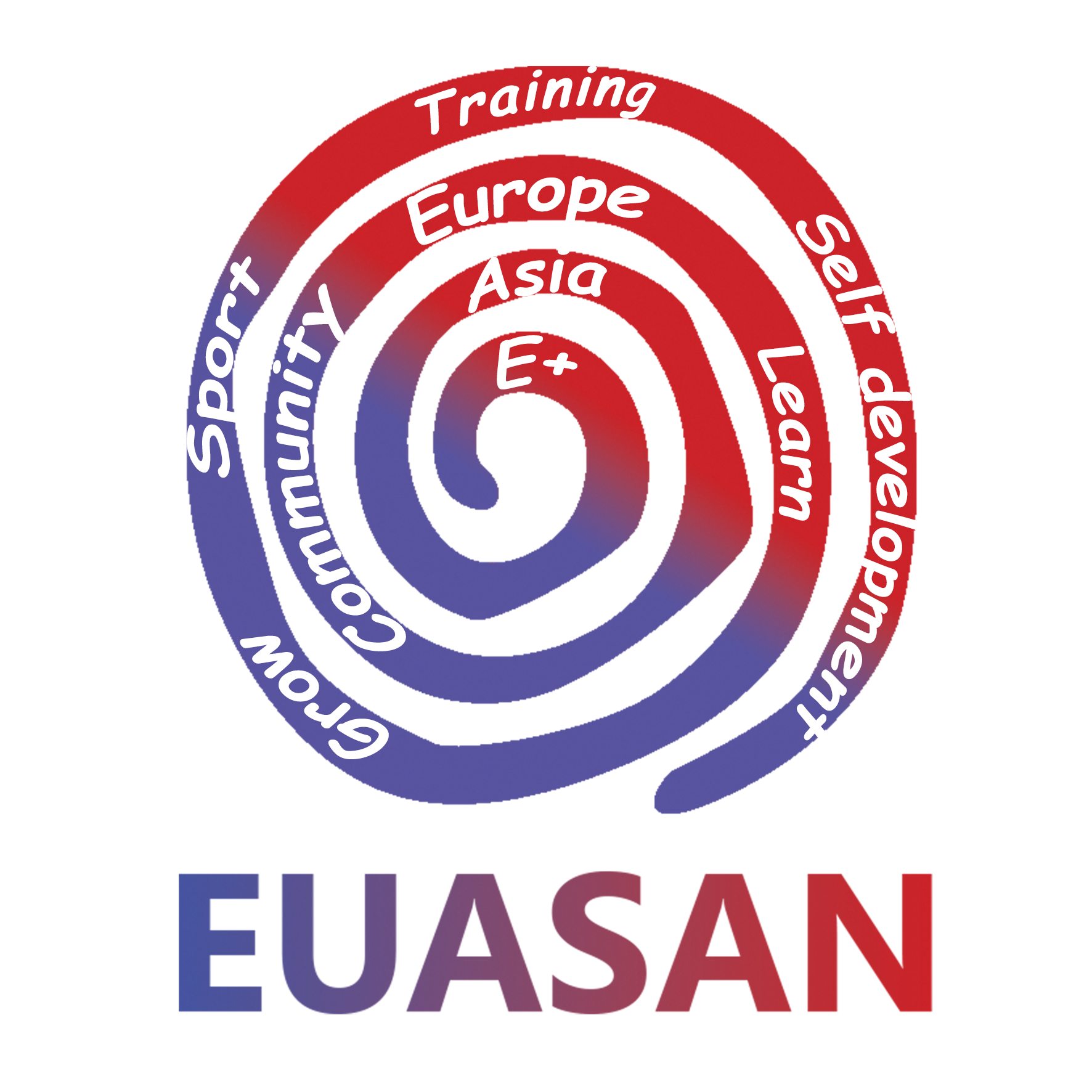 The project is Erasmus+ Programme, Key Action 2: Capacity Building Activity, EurAsian Social ActiveNation (EUASAN) aims to foster trans-continental cooperation in community development (CD) between countries and organizations of Europe and Asia.
EurAsianSocial ActiveNation(EUASAN) tiene como objetivo fomentar la cooperación transcontinental en el desarrollo de la comunidad (CD) entre países y organizaciones de Europa (Grecia, España, Hungría) y Asia (India, Vietnam).
Agregar nuevas prácticas y herramientas ofrecidas por ENF y ETD agregarán valor adicional para fomentar la participación de la comunidad, la inclusión social, la participación activa y la ciudadanía. Se eligió la metodología ETD ya que consiste en la integración e implementación de elementos deportivos que se utilizarán con fines educativos para abordar cuestiones sociales, desarrollar competencias sociales y provocar una transformación social duradera.
El proyecto EUASAN desarrollará a las comunidades en dos niveles:
1)Jóvenes líderes / trabajadores europeos y asiáticos construirán relaciones interculturales y entendimiento entre estas 2 regiones
2)Dentro de las organizaciones y su campo de trabajo. Los participantes adquieren las habilidades necesarias y se convierten en capacitadores / facilitadores para involucrar a las comunidades y convertirlas en ciudadanos activos y felices creando plataformas / actividades para su inclusión.
Objetivos:
Fomentar el desarrollo de comunidades (marginadas, escolares, rurales, voluntarias y jóvenes con menos oportunidades)para luchar contra la discriminación, la exclusión, la pobreza y el desempleo
Educación no formal (ENF) para el autodesarrollo y la mejora de las habilidades de liderazgo
Educación a través del deporte (ETD).
Promoción de actividades físicas con fines educativos entre las personas de las zonas rurales y los jóvenes con menos oportunidades.
Compartir buenas prácticas y experiencia en el trabajo con jóvenes.
Creación actividades sostenibles e innovadoras gracias a los métodos NFE y ETS.
EUASAN comprises of 5 interrelated events (1 Kick off meeting, 2 Training Courses, 1 local implementation in home countries and 1 Final Evaluation meeting) and it will last a total 2 years.
Coordinador:
AENAO (Center of non formal education) / Grecia
Socios:
Hope for Children /Hungria
SJ Vietnam / Vietnam
DISHA International Foundation Trust / India
This project 589994-EPP-1-2017-1-EL-EPPKA2-CBY-ACPALA has been funded with support from the European Commission.The European Commission support for the production of this publication does not constitute endorsement of the contents which reflects the views only of the authors, and the Commission cannot be held responsible for any use which may be made of the information contained therein.